The Gladstone Congregation serves the twin towns of Gladstone (a small town on the southern bank of the Macleay River) and Smithtown (a similarly-sized town on the northern bank), together with the surrounding rural areas.
It is situated midway between Kempsey and South West Rocks. It is part of a group of congregations known collectively as Lower Macleay River Multi Centre that, as well as Gladstone, includes the South West Rocks congregation and Yarrahapinni faith community.
The three congregations share a minister - the Rev David Kim.
The Gladstone Congregation has served the people of the region for over 100 years and the present building is nearly 100 years old.  The church building is listed as a heritage item - Gladstone Uniting Church - State Heritage Inventory.
---
Coronavirus impacts
Currently there are no physical worship or other gatherings.  We still connect in other ways.
Resources on how to handle this pandemic are available on the National Assembly and NSW/ACT Synod websites.
See also relevant posts on Presbytery News and Synod News.
---
Service and Activity Times
Sunday Services, 10:00am weekly
"Treasure and Trash" market is held on the fourth Saturday of each month on the church grounds.
Induction of Rev David Kim
The Rev David Kim was inducted as Minister for the Lower Macleay River Multi Centre at a service at South West Rocks on 17 February 2019.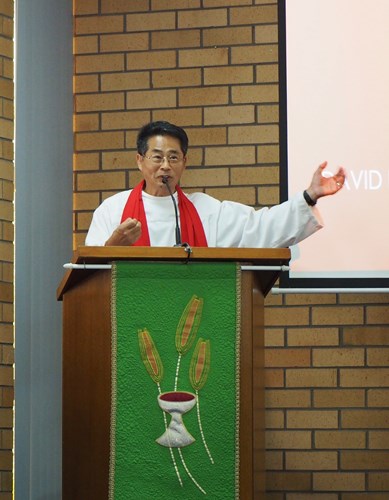 Gladstone is part of the Mid North Coast Presbytery - its website provides resources and further information about the Uniting Church in Australia.